video
Elite Archery rolled out its popular Elite KURE bow for the 2020 year. It was feature-packed and more tech-friendly than ever before, with tunability like nothing we've ever seen. Elite called it the Fastest-to-Tune hunting bow on the market. 
For 2021, Elite has released a follow up to the KURE with the introduction of their new Elite EnKore bow. It's got the same great features that shooters loved about the KURE, with the addition of a newly designed mod system to satisfy any shooter's need for speed. It's got an even longer axle-to-axle length at 33 inches, and the company says the bow is built to deliver more performance than anything in its class.
Check it out in our Elite EnKore review video below… 
I first had the opportunity to lay hands on the EnKore while in deer camp with Will Brantley and the Realtree crew for an early season velvet hunt. We had the chance to put some arrows through the bow on the range to feel its draw cycle, speed, and overall performance. 
Elite has touted their bows as some of the most shootable bows ever built. And I'd quickly say, this EnKore bow is a testimony to that bold claim. 
At first glance, you'll notice a sharp build and appearance. It's a good looking bow, free from the radical and over-engineered riser builds that seem to be commonplace among many bow manufacturers these days. 
It's a well balanced bow as well, with a smooth draw and a solid back wall. It shoots nice, with  minimal hand shock and plenty of zip that comes with the upgrade built in for 2021. 
Specs on the Elite EnKore
Axle to Axle: 33"
Brace Height: 6"
Mass Weight: 4.55 lbs.
Peak Weights: 40, 50, 60, 65, 70
Draw Lengths: 23" – 30" (in ¼" increments)
Let off: 70% – 90% (adjustable draw stops)
IBO Speed: 340 fps (measured at 80% let off for speed and draw length)
Price – $1,099.99
Versa Performance Mod System
The EnKore features a newly designed Versa Performance Mod System which offers 90% let-off and generates increased speed. Offering the best of both worlds, the EnKore features the comfort and shootability that an Elite is known for but with added performance. 
The Performance mod comes standard on the EnKore, but there are other mod systems available, including the Standard Versa Mod and the 75% Versa Mod. 
These new mod options allow shooters to customize the fit and performance they want the most in their bow. These additional mods are priced at $49.99.
Elite's S.E.T. Technology, also known as Simplified Exact Tuning, allows shooters or shop techs to make micro-adjustments to the cam performance with adjustments at the limb pocket. 
It's an easy process. An Allen tool is all that's needed to make it happen. 
Why is this important? 
Elite says these minimal adjustments at the pocket simplifies the tuning process like nothing else. Better yet, these adjustments are taking place at the most stable portion of the bow, the limb pocket. 
Regardless of the tuning method you desire – bare shaft tuning, walk back tuning, or paper tuning – make it happen without a bow press with the new EnKore with S.E.T. Technology built in. 
ASYM Tri-Track Cam System
The EnKore is built with the popular ASYM Tri-Track Cam that was designed to deliver the silky smooth draw cycle Elite shooters have grown to love.
It's a shooter-friendly cam that is later to peak weight, giving you a more comfortable drawing experience. The larger dwell zone of this design allows you to settle into your shot against a solid back wall. 
The ASYM Tri-Track Cam uses a cable on each side to laterally balance the cable load on each side of the axle. The end result is a much more stable cam, from brace, all the way to full draw. 
The EnKore features a comfortable grip design that should fit a variety of sizes and preferences. It's not too big, nor is it too small. It fits nicely in the sweet spot of my hand. 
You can remove the wooden side plates if you want an even more trim design, but I personally don't feel the need to make any adjustments. It's a nice grip, right out of the box.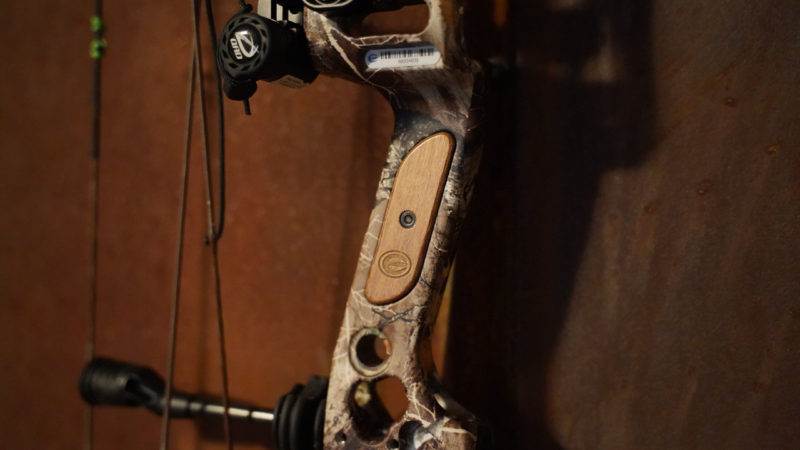 I shot my personal hunting arrows through the EnKore to get a real-world feel for how the bow performs under hunting conditions. 
I shot a 400 grain Easton Axis arrow through the 28″ draw length bow that weighed in at 69.8 pounds draw weight. 
I put a bunch of shots through the chrono and continued to get duplicate speeds of 297 feet per second. 
It's not likely to be the fastest hunting bow on the market for 2021, but it's certainly a nice bump in speed and performance from what we saw in the KURE. 
The EnKore is without a doubt one of Elite's finest creations yet. Hats off to the crew that brought the vision for this bow to fruition, delivering what will sure to be one of the deadliest bows to hit the shop shelves for the 2021 season. 
Be sure to check it out at your local Elite dealer, or online at www.elitearchery.com.